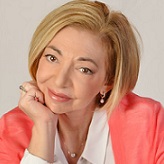 281-679-6266
281-954-9728 fax
713-890-2911 cell phone

[email protected]
1111 Eldridge Pkwy, # 200
Houston TX, 77077
Receive Email Alerts from Me
As a realtor with Energy Realty, Judy Sax brings a wealth of experience with her to the real estate industry. Born in Houston, Judy traveled the world and has watched Houston grow from a small "town" to the international metropolis that it is today.
Judy returned to Houston after living in Asia for nearly 10 years. Having lived overseas, she is keenly aware of the challenges that expatriates face when relocating. She chose this career so that she could support people in this transition. She knows that finding the right home in the right location is critical, but is only one part of the relocation experience. Judy prides herself in easing her clients through this exciting, yet challenging, time.
Prior to her career in residential real estate, Judy practiced law; she knows that her real estate practice benefits from her past legal experience. She is extremely organized, detail oriented, and has a strong background in legal contracts and negotiations.
Judy is an excellent listener and works hard to understand her clients' goals in leasing, buying or selling their home. She works tirelessly to help her clients meet their needs.